We Have Arrived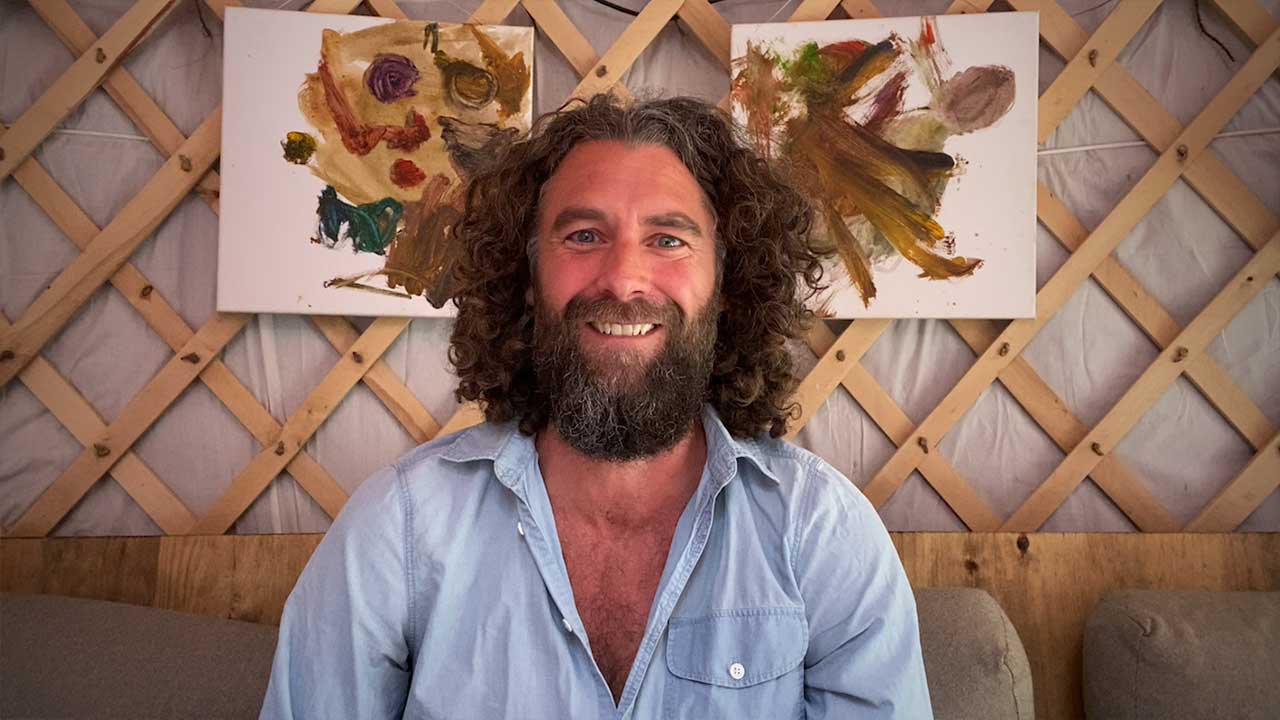 If you would prefer to download the video above to watch when offline,Your video download should start automatically, if not please click here.
Missed our previous newsletter? Find out how it all began.
The journey from Belgium took four days and along the way we were confronted with different levels of comically, contradictory COVID measures.. Finally we arrived in Andalusia..
We drove steadily up to a small village nestled in the clouds and met our new neighbour.. We followed him down a steep, winding lane that hugged the mountainside of the valley.. After a few minutes of cautious driving we turned off onto a rugged track which would soon uncover our new home..
Having nowhere to sleep, we immediately set to work in putting up our bell-tent and camping stove.. We would spend the next two months or so "camping" before the yurt was ready.. Each day I would tackle the unlevel mountainside, to make space for our new home.. Hanne, with belly growing bigger by the day, held everything together and kept me full of fuel..
Day by day, things moved forward and before long we were making a nest in our yurt.. As the strong Spanish sun began to settle into its winter home, myself and our kind neighbour put the finishing touches to our outdoor bathroom.. Within days we found ourselves filling up the birthing pool, Hanne, dragging her huge tummy around, her usual relaxed disposition.. I, on the other hand, looking like a mid-wife from a Monty Python sketch, clumsy, bearded and a head torch bright enough to light the birth of a baby a thousand miles away – I began lighting candles and checking the water temperature.. We got the girls to sleep and jumped in the bath together.. Me sitting awkwardly quiet, whilst dealing with the nuclear fall-out of worry that beset my mind.. Hanne, deep into the dance, straddling two worlds and opening up the cosmic passage of which the little one would arrive.. Things moved very quickly and before long I was back in the bath that I had been momentarily evicted from.. Jumping in right on time to catch our little angel as he burst out into our world.. As he came up for air he began to cry his eyes out, the cue for his two big sisters to wake up and immediately try and jump into the bath with Hanne..
An experience that words can never truly do justice.. An experience that every Mama 'n' Papa should celebrate together.. Absolutely, undeniably the most beautiful experience we've ever shared..
After the clean-up operation, we spent the next few days just looking at our little boy and laughing at his scrunched up face.. The girls wouldn't leave him alone and still won't.. Hanne's blood-clot aside, we were completely content in our little bubble.. Christmas came and went.. New Year seemed trivial in relation to what we had just witnessed..
Things settled down and calmness wrapped us up – I was in the shower one cold January morning and like a lightning bolt from the stars, it hit me..
Just like Lue, The Free Folk Project was born..
To be continued..